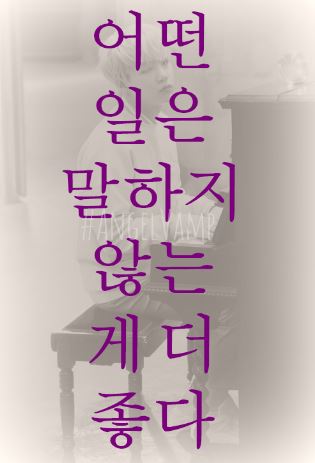 어떤 일은 말하지 않는 게 더 좋다 (Some things are better left unsaid)
There are certain people that come into your life, and live a mark.
I'm talking about the ones who, for whatever reason, are as much a part of you as your own soul.
Their place in your heart is tender, a bruise of longing, a pulse of unfinished business.
Just hearing their name pushes and pulls at you a hundred way, and when you try to define those hundred ways, describe them even to yourself, words are useless.
If you had a lifetime to talk, there would still be things left unsaid.
Credit: Sweethearts by Sara Zarr
Tacenda
From Latin tacenda, future passive participle of taceo ("I am silent")
things that are not to be spoken about or made public
things that are best left unsaid
So There Posts
Slumber Thoughts 💭💬🗯Bedgasm 🛏💤🛏 💤 As I lay me down to sleep 😴 ❤ Slumber Thoughts 💭💬🗯 Everyone's busy as a bee. 😉🐝 😌 Whether you're a child, a teenager, an adult, […]
0 comments
Don't be quick to judge. Everyone sees who you appear to be, but only a few know the real you. We only see what we choose to show. There's so […]
0 comments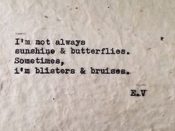 I wish emotional bruises healed like physical ones. – Susane Colasanti Don't make me happy. Please, don't fill me up and let me think that something good can come of […]
0 comments